Find good investment ideas with the strategy behind Investtech's Model Portfolios
Published March 20, 2019
Investtech has been publishing technical analysis for over 21 years now and over the years has created a system that works on its own. We have created algorithms that go through every stock that we publish analysis for and automatically plots trend channels, volume balance, price formations, support and resistance and the momentum indicator RSI on the price chart.
The ultimate goal is to earn better returns than a normal bank deposit and above all better than the benchmark index. However, many investors struggle to find quality stocks to put their money into. To solve this dilemma we have created Model Portfolios for many markets that we cover, and for some markets Trading Ideas as well.
The Model Portfolio aims to show how active investors can achieve good return by using Investtech's analyses. It aims to give good and excess return compared to market benchmark. The Portfolio is for investors with moderate risk tolerance.
The Portfolio seeks to maximise winnings by holding onto good investments for a long time, as opposed to trading on short term signals and selling too soon. At the same time, it will quickly minimise losses and sell stocks that are technically negative. More about the strategy behind Model Portfolio can be studied here.
On the other hand, the strategy for Trading Ideas is focused more with traders and investors in mind who are looking for quick returns and have a short time horizon. Stocks under trading ideas can be more volatile and less liquid but not very illiquid with compared to model portfolio stocks.
We update the portfolios once every week and I must mention that since its inception in February 2001, the Danish model portfolio when traded at next close has given 14.1 per cent return while the index has given only 6.7 per cent, hence 7.4 per cent more for the model portfolio. Portfolios from other countries are not very different and have given better returns than their respective indices. So you can go into the respective page where you are active and check the same.
Here we have picked stocks from the Model Portfolio and Trading Ideas for the Danish market or OMX Copenhagen 25 GI index.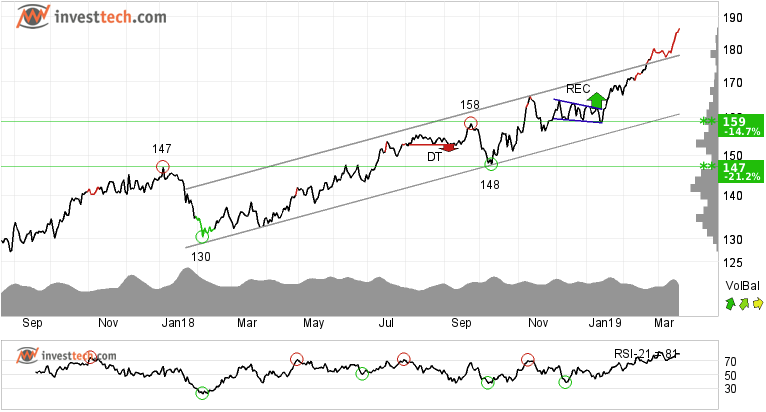 Tryg went into the Danish model portfolio on 11.06.2018 and has given a positive return of over 28 per cent in the last nine months. The stock still holds its position strong since it is in a rising trend and has broken above the ceiling of the rising trend channel in the medium term. Volume balance is positive and momentum indicator RSI is very strong and continue to support price rise. The stock looks very promising both in the short and long term charts as well.
Investtech's outlook (one to six months): Buy
Royal UNIBREW was taken into the portfolio on 24.09.2018 and has performed neutral with -0.98 per cent return. The reason that the stock is still in the portfolio is that it is inside the rising trend channel and is close to its support at 492 kroner and the base of the trend channel. This gives the stock a chance to take good support at existing levels and rise again.
In case of a negative development in the price, the stock will be taken out of the portfolio on the day of the week when we update the portfolio and be replaced by a better alternative. So far the stock seems to be a good investment. Both volatility risk and liquidity risk in the stock are low, making the stock a good candidate for the model portfolio.
Investtech's outlook (one to six months): Buy
An example from the trading ideas, Torm Plc, was taken in on 18.03.2019 and has given 3.03 per cent return in just one day. Yes, sometimes returns can be very quick.
Criteria on which this stock was chosen, are that is has broken out of the falling trend channel and resistance in the medium term. It has also given a buy signal from a double bottom formation which is a bullish trend reversal formation. Positive volume balance and rising momentum are indicators that support rising price in the short term.
The stock has support at 48.40 in the short term but no special resistance as shown in the medium term chart. Hence upside in the stock can possibly be huge.
The stock has moderate volatility of 12.5 per cent, while turnover in the last 22 days has been nearly 4 million.
Investtech's outlook (one to six months): Buy
Zealand Pharma has been taken in as other candidate in the trading portfolio. It is one of eight other potential candidates that can be traded in but not directly included in the trading ideas list of five stocks.
The stock is inside a steep rising trend channel and is now above its resistance of 103 kroner. Next resistance is 118 kroner while there is short term support around 99 levels.
Investtech's outlook (one to six months): Buy
The idea with the above-mentioned two products is to help you take better investment decisions and earn good returns in the market.
The analyses are based on closing price as per March 19, 2019
Note: These instruments are traded in currency based on the exchange or country they are listed on.