Global stocks: Buy signals in three European stocks
Published November 28, 2018
Webinar November 28 
Join our free online webinar on November 28, 15.00-15.45 CET . Analyst Kiran Shroff and Country Manager Jan Marius van Leeuwen will give an introduction to Investtech's analyses and present stock picking tools & strategies.
We have been writing about US and UK based stocks for a while, but today we thought why not talk about stocks from other markets. We do provide analyses for 12 international markets, after all. Today we choose to look at three stocks from three different European markets; Germany, the Netherlands and Finland.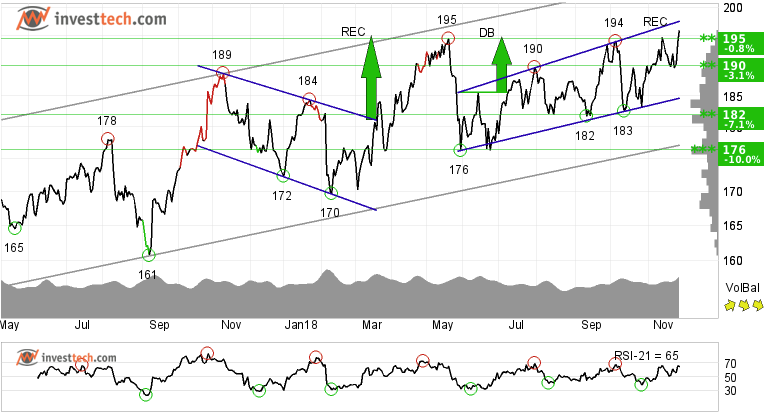 Muench.Rueckvers.Vna o.N. shows strong development within a rising trend channel in all short, medium and long term charts. This signals increasing optimism among investors and indicates continued rise.
After being in a sideways movement for a while, the stock has now broken upwards and closed above its resistance of 195. A new buy signal has been initiated. In case of negative reactions, there will now be support at 195 and 190.
Investtech's outlook (one to six months): Buy
AIR FRANCE -KLM is in a rising trend channel in the medium term. This shows that investors over time have bought the stock at higher prices and indicates good development for the company.
The stock has support at euro 9.30 and resistance at euro 11.00 and 14.20. RSI above 70 shows that the stock has strong positive momentum in the short term. Investors have steadily paid more to buy the stock, which indicates increasing optimism and that the price will continue to rise.
Investtech's outlook (one to six months): Buy
Amer Sports Corporation is in a rising trend channel both in the medium and long term. Rising trends indicate that the company experiences positive development and that buy interest among investors is increasing.
The stock gave a buy signal from a rectangle formation in early September. The target from the formation has been achieved, but the formation indicates that the stock may continue to rise. There is support at euro 29.00-28.00 and resistance at euro 35.50.  If the stock manages to break and close above the resistance, that would initiate a new buy signal.
Investtech's outlook (one to six months): Buy
The analyses are based on closing price as per November 27, 2018.
Note: These instruments are traded in currency based on the exchange or country they are listed on.